Dear Seniors,
For the past few months, songs like "Graduation" and "We're All in This Together" have been playing in your head on repeat. You've been fitted for your cap and gown. You've received responses from the schools you applied to and decision day has come and gone. You have a very severe case of senioritis and your teachers have come to accept that you no longer hear a word they say. In essence, graduation day cannot possibly come quick enough.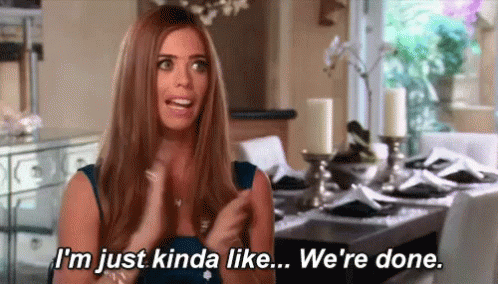 But wait.
Let's pause for a second. Your life is about to change in imaginable ways and whether you loved or hated high school, the past four years have helped shape who you are today- that means a lot! Believe it or not, these last few weeks of bustling hallways, deafening period bells, and unappetizing cafeteria lunches are something you're going to look back on with kindly eyes. HOWEVER, there are still a million things to do before you're handed your diploma, and despite what you've been told, here are ten of the most important:
Spend tons of time with your friends.

The friends you've grown up with and close to are the people who will stand by your side for life. These are the people with whom you've laughed hysterically on your way home from practice, cried with throught long nights, and studied with to get where you are today. Appreciate and make the most of your time with them.

Take note of the little things.

Listen to the sound of your parents coming home from work, lay in your bed just because, and take a stroll around the neighborhood. The little things that we take for granted are the ones we miss the most.

Ask as many people as you can to sign your yearbook.

Don't just hand your book to your five best friends and give up! It may seem silly and annoying now, but in a few years those little notes from everyone in your class will be the best unexpected surprises.

Skip school.

C'mon, do you know what's going on in your classes anyway? Now is the perfect time to gather your friends and spend the day doing something that has nothing to do with finals or graduation rehearsal (think- beach day, amusement park, giant scavenger hunt). Bad decisions make great memories, people. 

Go to prom!

Even if you think prom is the lamest event of the century, it's a night you'll never forget and one of your last chances to have a good time with your entire class. 

Ask someone to teach you to do laundry.

The last thing you want is to find yourself cluelessly clutching a wad of soapy, dripping wet clothes in the laundry room at 1 a.m. It happens. 

Thank your teachers!

Those guys seriously don't get half the credit they deserve for everything they do. Write letters or make gifts for the teachers that have helped you through the ups and downs of the past five years. Plus, you're going to need great references down the road. 

Write yourself a letter to read when you graduate from college.

It sounds corny, I know, but I promise you tears will stream when you read it four years from now.

Make a new friend.

There has to be at least one person you don't know very well in your graduating class. It's never too late to connect with someone you've shared teachers, classrooms, and peers with for the last few years. You never know who you'll wind up connecting with! 

Take a ridiculously large number of photos with your family and friends.

Print enough copies of cute pictures to help you survive when homesickness strikes next year. Then, although everyone will think you're incredibly annoying, proceed to take some more.